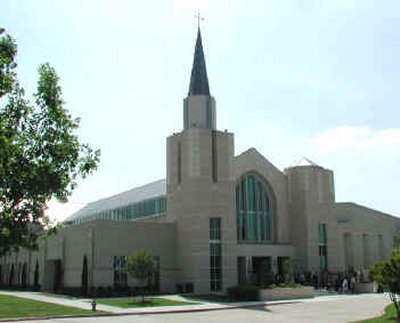 Christ Church to Disassociate from ECUSA
Statement of the Rev. Canon David H. Roseberry & the Christ Church Vestry
Saturday, June 24, 2006
My Dear Friends,
I am thankful for the many prayers and expressions of support that you have offered Fran and me during these past two weeks. The General Convention of the Episcopal Church, as difficult as it was, achieved clarity and showed a direction and corporate mission for ECUSA that is unmistakable. I would invite you to read the daily posts I wrote from Columbus found on our website. By God's grace, the Convention has given your Vestry and me clarity as well.
Over the past three years many laypeople, clergy (including myself) and bishops have worked zealously to communicate the clear choice that was before the General Convention; however, the Episcopal Church has not only broken the faith and apostolic witness but appears determined to continue in that path. We cannot go with them.
Christ Church has been a mission of Jesus Christ for the last 21 years. In those years we have seen a blessing from God and an energy that continues to this day. We are very thankful for this and we also sense a deep call to be right stewards of this mission and ministry. Our commitment to this biblical faith and apostolic ministry is secure thus that we find it necessary to take bold steps to protect our mission and provide for the future of our ministry on our property.
Therefore, at a specially called session on June 23 and 24, the Vestry unanimously agreed to the following statement:
The mission of Christ Church is to make disciples and teach them to obey the commands of Christ. The direction of the leadership of the Episcopal Church is different and we regret their departure from biblical truth and the historic faith of the Anglican Communion.
As the vestry of Christ Church, we declare our intention to disassociate from ECUSA as soon as possible. We are thankful for the shepherd role of the Right Rev. James Stanton and his standing in the Anglican Communion, and we regard him as our apostolic leader.
We assure the clergy, staff and congregation of Christ Church that throughout this process we will continue to worship, teach, pray and study as we have in the past with renewed and vibrant commitment to the mission of Christ Church.
Over the next few weeks we will explore the ways that this separation will be best realized. Both the vestry and I will keep you informed and updated as needed, and you can be assured of our prayer and definite actions. We likewise would request your patience and prayers. But rest assured that our church is Anglican now… and will always be within the great historic family of the Anglican Communion.
You should know that our bishop is aware of our decision and is very supportive. As we move forward together I ask for your prayers, support and blessing on the work ahead of us.
In Christ,
The Rev. Canon David H. Roseberry, Rector
http://www.christchurchplano.org/documents/06_gen_convention/