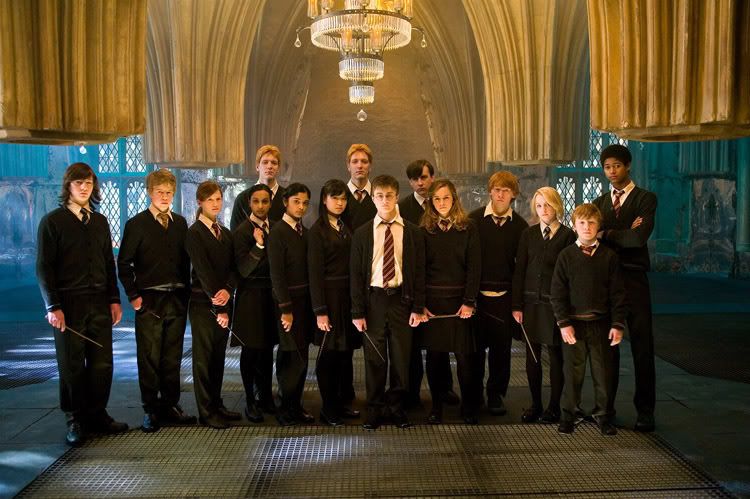 All of us at the Cafe have donated our copies of the New York Times to the International Puppy Potty Training League and we encourage you to do the same thing. Shame on the New York Times, but then that's the paper that banned Harry Potter from the Best Seller List (creating a special "children's list" which is ridiculous since adults read the series) because the books hogged all the top spots so no other books could advertise they were #1 on the New York Times Best Seller list. Well, guess what - it looks like Delores Umbridge left the Ministry of Magic and has gone to work at the New York Times. We hope that fans of the books who are the staff at NYT take that editor who authorized the spoiler-review up to the Astronomy Tower for a little chat.
Here's what J.K. Rowling said today:
I am staggered that American newspapers have decided to publish purported spoilers in the form of reviews in complete disregard of the wishes of literally millions of readers, particularly children, who wanted to reach Harry's final destination by themselves, in their own time.
We're not the only one mad.
The wonderful folks at the The Leaky Cauldron have organized a letter-writing campaign and we here at the Cafe join them. Leaky writes:
If you would like to express your disappointment to the newspaper, do so at
letters@nytimes.com
. In fact, if you would like a letter to copy and paste, or use to work from and add your own sentiments, please feel free to use the below. We've just sent ours off, and hope you will do the same.
They go on to offer a draft letter:
To whom it may concern:

I am writing to express my disappointment that your publication printed an early review and details of Harry Potter and the Deathly Hallows. This goes against the express wishes of the author and anyone that calls themselves a true Harry Potter fan.

It is hard enough for a Harry Potter fan to avoid spoilers on the Internet and news stations now that the book appears to have leaked; now we have to avoid trusted outlets as well. You've not only disappointed millions of children around the world with your actions, you have disappointed the millions of adults who look to the New York Times to be a bastion of good taste and standards. When the New York Times succumbs to such tabloid tactics, who won't?

Many ask why we care – why fans aren't all so rabid to get the book that we'll sop up any illegal download or purchase. There's one simple answer: We respect the author. We thought that a newspaper like yours, where so many of your reporters become authors themselves, would understand and respect that. We're so saddened that we were wrong. We feel let down by you and your editorial board.

Sincerely,

Your name here
Harry Potter Fan, and member of Jo's Army
And they are still not the only ones mad:
Bloomsbury Publishing, originating publisher of Harry Potter, was extremely dismayed to learn last night about early sales in America of a small number of copies of Harry Potter and the Deathly Hallows prior to the UK, US and worldwide embargo time agreed with retailers, suppliers, and all third parties involved of 00.01AM British Summer Time on Saturday July 21st 2007.


We are aware of some speculation in the media that internet "spoilers" purporting to be extracts from the book have come from the few early copies sold. We confirm that this is not true as is clear from the press release of July 18th issued by Scholastic Inc, the US publisher of Harry Potter. The "spoilers" remain unauthenticated.


The release date and time embargo of 00.01AM BST on Saturday July 21st is being enforced unflinchingly and without exception by the publishers. We confirm that all Bloomsbury's customers in 93 countries worldwide are robustly supporting this embargo time to ensure secrecy for the children and adult readers of Harry Potter.


We would like to thank our customers and suppliers again for their full support given in so many different ways. We would also like to thank the worldwide media for their own observance of, and strict policing of, the embargo to preserve the secrecy of the plot for the readers of Harry Potter.


JK Rowling said at 1pm today, 'I am staggered that American newspapers have decided to publish purported spoilers in the form of reviews in complete disregard of the wishes of literally millions of readers, particularly children, who wanted to reach Harry's final destination by themselves, in their own time. I am incredibly grateful to all those newspapers, booksellers and others who have chosen not to attempt to spoil Harry's last adventure for fans.'